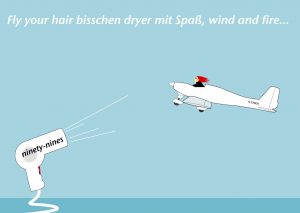 The weather was beautiful and so four planes and their crew gathered on Friday afternoon at Flensburg Airfield.
After a nice dinner in town and a planning of the route for Saturday we woke up on a cloudy Saturday morning. It gave us an opportunity to stroll around in Flensburg and take off around 1 pm to the lovely island of Ærø. We took a curtesy bicycle and rode off in different directions.
Some went back to Flensburg after the bike ride and some of us flew to Nordborg in the northern part of the Als island. We were welcomed with coffee and cake and received some good advice for places to go on the next day. A beautiful evening flight in the setting sunlight brought us back to Flensburg for another good dinner, wine, beer, discussions and good company.
Sunday, we decided to fly to Drejø, a tiny island with a private runway, along the sea, east of a sleepy village. Beautiful and deserted. We will all come back to this place. Some of us stayed to go swimming, others flew to Endelave or Kiel and two of us flew to Kegnæs, a small airstrip on the south coast of Als. All with astonishing views on to the islands, the sky and the sea.
Looking back on a wonderful, variable weekend. Thanks to Ute for facilitating, thanks to the perfect company.
Tineke Schaper