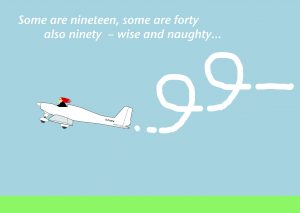 From October 26th till October 30th, 2017 eight women of the German Section of the 99s flew to Cairo, to the international conference of the Arabian Section.
Some 130 women pilots from several Arab countries, Jordan, Quatar, Tunesia, Egypt, Bahrein, Lebanon, as well as from the USA, Canada, Austria, Spain, China, Hong Kong and Switzerland, gathered for several days as guests of the Arabian Section.
The approach in Cairo was smooth and we had a wonderful view from above onto the city of Cairo with its specific orange brown sandy colour. At the airport we were welcomed by a male delegation of the Fairmont Hotel who helped us with everything they could such as obtaining visas, money change, luggage and transport. We felt completely safe and being cared for.
On Thursday evening, Alia Twal, the chairman of the Arabian Section, welcomed us at the start of an informal get together in the hotel and many contacts were made and/or renewed. Friday morning, three buses, with guide and security, were waiting for us to bring us to the Pyramids, the Sphinx, a wonderful authentic restaurant and in the afternoon to a lively market with locally handmade crafts. The day came to an end with a nice Egyptian dinner in the old city of Cairo. On Saturday we visited the Egyptian Museum where we spent some hours with Egypt's interesting ancient history. We had a good lunch in a beautiful garden restaurant and were then brought to a colourful tapestry market. A dinner during a small Nile cruise with a belly dance performance concluded this second day.
Sunday morning there was an official reception by Egypt Air. After a warm welcome and many photoshoots, we visited the ATC of Egypt International Airport where a lady proudly told us about her pioneering career as Air Traffic Controller. Furthermore, we visited the maintenance department of Egypt Air. Some others of our party participated in a simulator training and emergency procedure practice.
All was done in an extremely pleasant, open and friendly atmosphere and there were plenty of time and opportunities for chatting and getting to know each other.
Sunday evening the Minister of Transportation in Egypt and the Manager of Boeing Africa and others attended the official final ceremony. They spoke about the position of women pilots in the Arabian world and donated some awards and sponsorships.
Most of us flew back in the following night, looking back on a perfectly organised and fantastic event. It gave us an insight in the profession of a woman pilot in a still predominant male Arabian world with many difficulties and efforts acquired. Many professional and friendship ties have been established as such an important and precious part of being a member of the 99s community worldwide. The memories will linger on and we thank the Arabian Section, and especially Alia Twal, for having us in Egypt as their guests. Hopefully, we will all meet again at the next conference in Istanbul in 2019 or in Jordan in 2021.
Tineke Shaper